White & Denim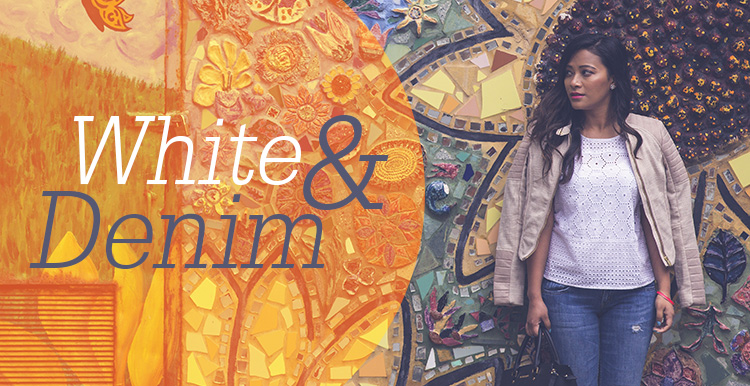 Happy hump day everyone!! This year is flying by so quickly. This post is continuation of my previous Chicago post (Seen here). Chicago's weather is always so unpredictable. A day earlier it was bright and sunny and the next day it was rainy and cold. One exciting thing I love about Chicago is the arbitrary graffiti on casual areas. I was really fascinated by this graffiti that was close to where we were staying and therefore we wanted to explore!
These graffiti were so cool and so artsy that you can't pass without reconnoitering it. The colors were very vibrant and it is quite fascinating to just watch the art. I really love art and colors. I feel like colors give me joy and I love anything that is colorful. And my husband being an artist himself, he really enjoyed observing the technique that was used to create the art and being curious about the artist's style. The graffiti was a mixture of painting and 3D which were really unique. I am sure anyone passing through that area would want to stop by and gaze at it.
Since it was a not-so warm day and we were just hopping around the town and meeting friends and family, I chose to wear a simple outfit. Crochet is so in trend. White and Denim are my go to outfit but this crochet top bring a different vibe to it. It is simple yet urbane which is something that I am always enticed to. Destroyed denim, not again! I know! I know! I wear destroyed denim too often but I seriously can't get over how chic they look on anyone. To me, style is something that comforts me and thus, I find myself always attracted to pieces that are comfortable.
What do you guys think? Leave me comments below!
Thank you for reading!
XOXO,
Mash
Outfit Details
Top: Forever 21 | Jeans: Levis | Blazer: H&M | Flats : Call it Spring | Heels: F21 (not current & seen here too)
Photographed by : Sarobar Kasaju