Jersey Dress & Braid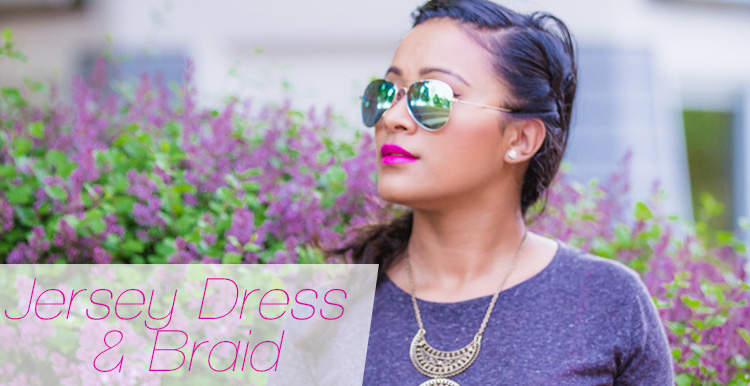 "Bad things do happen; how I respond to them defines my character and the quality of life. I can choose to sit in perpetual sadness, immobilized by the gravity of my loss, or I can choose to rise from the pain and treasure the most precious gift I have i.e., Life itself"
-Walter Anderson
Hi everyone! Hope you all are having a delightful weekend so far!
I have had a coarse time these past weeks as of an earthquake disaster that hit my home Nepal. Even though my family is safe, it is still hard to see how people have been going through major sorrow. It feels like life has become so altered now. Even though I was not bodily there, it has been so hard on me emotionally. Hearing stories from my family and friends is just distressing and the sentiment of not being able to be there is just wordless. I am just praying that God give us Nepalis the strength to overcome this and rebuild our country.
I was MIA as I was just not sure how to cope with this sadness. Then, I read this– "Bad things do happen; how I respond to them defines my character and the quality of life. I can choose to sit in perpetual sadness, immobilized by the gravity of my loss, or I can choose to rise from the pain and treasure the most precious gift I have i.e., Life itself".  And I realized that I choose the later. I decided that I will move on and appraise my life and appreciate the beautiful life my parents have given me. But yes, I will be praying for my country every single day.
Summer in MN is the finest. Everything looks green and pretty and it just gratifies my heart.In this post, I am sharing my lazy day outfit that I wore this weekend on a beautiful day here in Minnesota. My husband and I, we haven't gone out for walk after summer started in MN so we decided that we will go out for a stroll around Centennial Park and run some other errands. I chose to wear this jersey dress as it is so light and breezy and just perfect for a hot day. I wasn't a fan of the dress but I feel like it is a must have for hot summer days. I added an antique color necklace to go with it just to give the dress some life. I paired it with some strappy heels which are my favorite this season. They are so versatile, comfortable and go well with anything (You will be seeing more of this) and my Hamilton that I have had for ages now. I wore pink lips and pink nails to add a pop of color to my boring outfit! And I am in love with these mirrored sunglasses; I love how it can jazz up your look and makes you summertime appropriate. When it comes to lazy day hair, braids are on my top list.
If you made it so far, I really thank you very much for reading my post. I will try to be more consistent with my post now. Lastly, please take a moment to pray for Nepal and if you can please help my country by donating to recognized sources like Red Cross & UNICEF (every penny counts).
Thank you all! God bless my Nepal.
Details
Jersey Dress : H&M | Denim : Wetseal | Purse & Watch : MK | Shades: Nordstorm BP | Shoes : DSW (Sam Edelman)
Lips : Nars Audacious (Michiyo)
 Photographed by : Sarobar Kasaju